Medium-Term Management Plan
MORESCO has formulated 8th medium-term management plan, a business plan covering the three years from fiscal year 2018 to 2020.
Medium-Term Management Vision
MORESCO strives to glitter in the global marketContributing to the development of society as a specialist in water, oil, and macromolecules
Action Guideline
TOSS and Attack
Thinking Open communication
Speed Strech & Attack
Medium-Term Corporate Policies
1
Be a market leader across high-value technologies and products.
2
Establish a diversified product portfolio through M&A and strategic alliances.
3
Reinforce strong position domestically and expand global business.
4
Deliver quality improvement and cost reduction by boosting morale of production staff.
5
Raise the level of trust from our stakeholders with increased awareness for compliance risks.
Consolidated Net Sales and Ordinary Income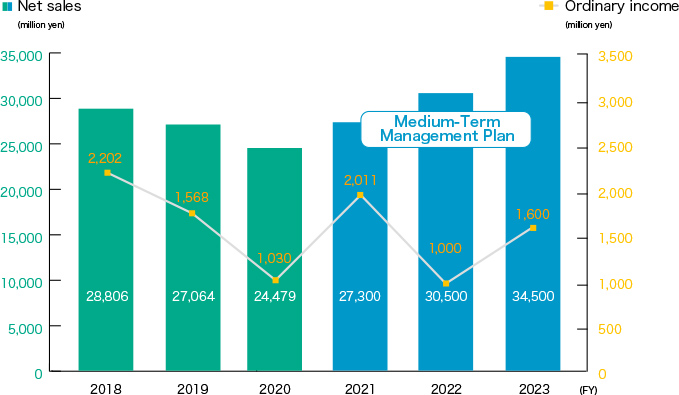 Revised on October 13, 2020
Revised on July 14, 2020
Revised on March 10, 2020